Museo della Fisarmonica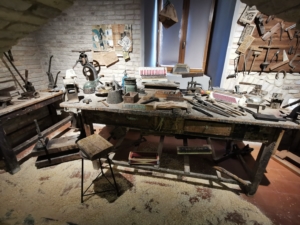 Opening hours
JANUARY, FEBRUARY, NOVEMBER, DECEMBER
Hours: 16 – 19 – Wednesday and Thursday
Hours: 10 – 13 / 16 – 19 – from Friday to Sunday
closed: Monday, Tuesday.
MARCH APRIL
Hours: 16 – 19 – Tuesday and Wednesday
Hours: 10 – 13 / 16 – 19 – from Thursday to Sunday
closed: Monday.
MAY, JUNE, JULY, AUGUST, SEPTEMBER, OCTOBER
Hours: 10 – 13 / 16 – 19 – from Tuesday to Sunday
closed on Mondays.
CLOSING DAYS
January 1st, Easter and December 25th
OPEN
2, 3 January (4-7pm), Easter Monday (4-7pm), 25 April (4-7pm)
16-19), 1 May (16-19), 15 August, 26 December (16-19).
Reservations: only for groups, they may possibly also concern i
closing days/times.
Accessibility
The Civic International Accordion Museum has no architectural barriers and is accessible to people with disabilities.
Single entrance ticket price
€ 5.00 – Visitors
€ 3.00 – Groups (over 20 people)
€ 2.00 – School groups and group leader
Free admission for: Touring Club Italiano members, Italia Nostra members, children under the age of 6, residents of Castelfidardo and disabled visitors.
Modalità di visita per emergenza Covid-19
– È consigliata la prenotazione della visita ai nostri recapiti
– Per gruppi numerosi (dalle 10 persone in poi) la prenotazione è obbligatoria
– La visita al museo è consentita in modo contingentato per garantire il distanziamento interpersonale di almeno un metro
– È obbligatorio presentarsi muniti di mascherina a protezione delle vie respiratorie e indossarla durante tutto il periodo della permanenza
– Ai visitatori potrà essere rilevata la temperatura corporea, impedendo l'accesso al museo in caso di temperatura maggiore di 37,5
– L'accesso sarà consentito solo dopo aver compilato una apposita autodichiarazione (che può essere scaricata qui e portata già compilata)
– È consigliato lavarsi le mani all'ingresso del museo con l'apposita soluzione igienizzante
– Si prega di evitare di toccare con le mani superfici e oggetti presenti all'interno del museo
Fill out the form below with your details. You will be contacted by one of our operators who will confirm your booking.